Kaline worked his first Christmas this year. It may seem a little odd, given that he's over three years old. But the holiday season can be a special kind of challenge for service dogs and their handlers.
Juno, my now-retired service dog, has been working Christmas since she became my partner in 2011. It's very different than working in public. You don't always take your dog "dressed," because you're with family and may want to allow more socializing than is normal for your dog when on duty. It's easier to tell strangers to leave your dog alone than well-meaning family members. You can also end up in close quarters for much longer than normal, with more tempting food in easily accessible places. For some dogs, the whole thing can be a little confusing.
Juno doing Serious Work Face even without her vest on.
All of the above assumes that your family and friends accept you and your partner at the holidays. Juno, Kaline, and I are very fortunate in that our family and extended family understand my need for a service dog and don't bar my dog from the festivities. For family events, you have no ADA protection. Family members who don't comprehend the importance and necessity of a service dog can put handlers in an uncomfortable position: Do you leave your crucial medical equipment at home and get to be with family/friends for the holidays? Or do you stand your ground and refuse to attend without your partner, missing out on the traditional family gathering? It's an awful decision to force someone to make at any time, but especially around the holidays.
Kaline's first Christmas was a lot of fun and probably the most hectic one I've experienced with a service dog. Four more people than usual came, and four young children were running around. Gift-opening was kind of chaotic and ended up being overwhelming for me. So in the midst of all the noise and excitement, Kaline calmly did deep pressure therapy on me, ignoring everything going on around him. He also did a great job resisting the tempting morsels all around during dinner.
I kept Kaline in his harness for most of the time we were there, since he has a harder time than Juno transitioning to working behavior while he's out of his gear. Especially at an event like a holiday celebration, it's important to know your dog's individual quirks and set him or her up to succeed as much as possible.
Juno is the kind of dog who doesn't much care about socializing and will dependably pad just behind you no matter what is going on or what she's wearing (or not wearing). The only thing you have to worry about is her wagging her long tail near low tables or children.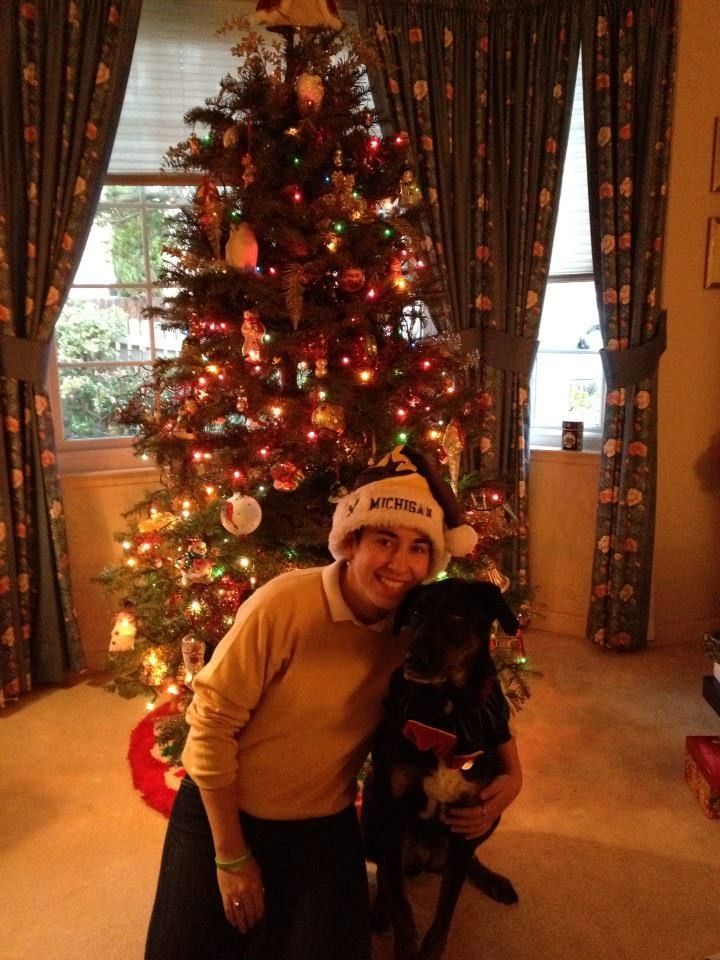 Kaline
loves
to socialize when he's not vested or harnessed. He also adores children, but doesn't quite realize how intimidating his size can be. Two of the kids at Christmas this year haven't had much exposure to dogs, especially big ones, so it was important for Kaline to make a good impression. Happily, his cute little Doberman nub isn't capable of knocking anyone over.
Another reason to keep Kaline geared up was that I just needed more help this year than last year. I have fibromyalgia—it's a problem all the time, but this year about a week before Christmas I began what most people with fibro call a "flareup." You get used to your usual level of pain, and can pretty much fake feeling fine most of the time (provided you still do good self-care). But when you get a flareup, the usual level of pain ratchets up dramatically.
Last year, even though Juno was retired from public work, I let her work Christmas because I knew I wouldn't need assistance that she was incapable of providing (like counterbalance). This year, there was just no way I could have had anything resembling a good time without Kaline's help. He did a lot of counterbalance, which would have hurt Juno.
In addition to his work, Kaline posed for silly photos with good grace.




Anytime I had to get up from a couch, he helped me. Walking around mingling, he provided stability. And with the added crowding, his deep pressure work was crucial. Don't get me wrong—these are people I love. I was so happy to see and catch up with everyone who was there. That many people in such a small space, however, especially when it gets loud, can just be too much for me to handle without either my dog's help, or flat out leaving the situation until I can get it back together again.
Kaline did an excellent job. I was really proud of him. Because of him—and my wonderful family—we had a fantastic Christmas. It wouldn't have been possible without his help.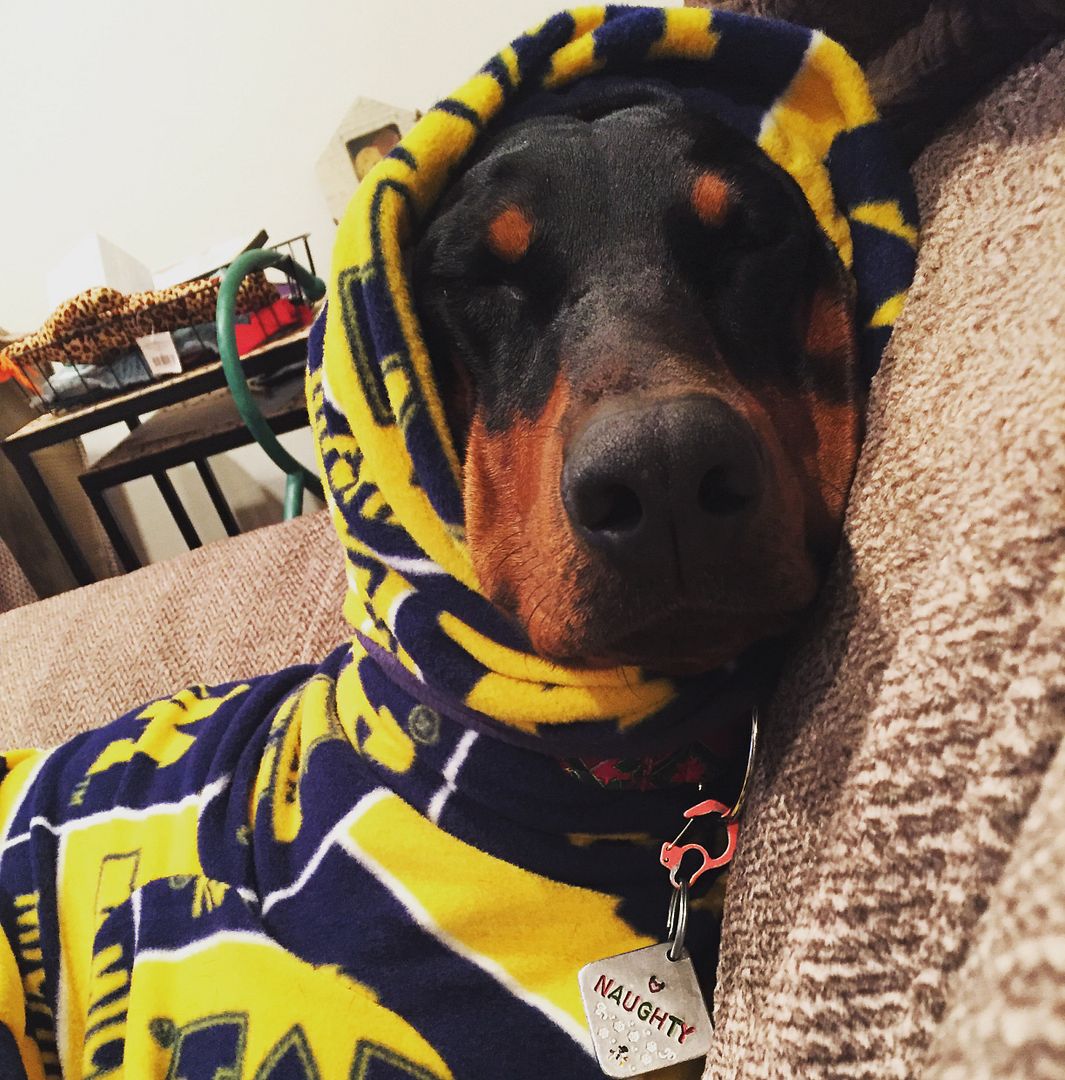 Kaline got some cozy and well-deserved rest after the festivities.
Colt